Just about to start reading '
Dandelion- Memoirs of a free spirit' by Catherine James,
I've been wanting to read this for some time but only just got a copy of it, anybody read it already? what do you think? is it better or worse that Pamela Des Barres books? looking forward to getting my nose into this after a couple of days feeling ill! :(
Desdemona Vintage ebay store....
go and take a look I sell lots of Vintage bags, clothes, shoes etc more items getting added daily, if you dont see what you're after then ask me, I have a studio full of vintage goodies!
thankyouplease x
at the moment we have this then?
Vintage JEAN VARON john bates 60's mini dress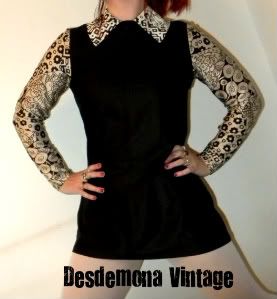 STUNNING ORIGINAL 1960's DRES
by JEAN VARON
for sale on ebay now!!
http://cgi.ebay.co.uk/ws/eBayISAPI.dll?ViewItem&item=280713607921